SONORA YOGA RETREAT IN COSTA RICA WITH JOHN MCCONNELL
I am so looking forward to going to Sonora!  The place looks wonderful, with an Italian flare (the owner is Italian).  It will be awesome to get some warmth while it's the dark winter in Vermont…or wherever you are.  Swimming in the ocean, surfing, lounging on the veranda of your bungalow.  We'll have a great time.
::Dates:: Mar. 5-12th, 2022 (7 nights, 8 days)
::Location:: Sonora Caribbean Jungle Retreat, Playa Negra Puerto Viejo de Talamannca, Costa Rica
Enjoy being on retreat with fun, light-hearted practices focused on appreciating the beauty we are surrounded by, and the good company of all that are at the retreat. Our classes will focus on an appreciation of our selves, and a focus on seeing the good, first.
Our schedule will include meditation and yoga in the morning, and then a yoga session in the evening. Each class will start with a theme appropriate for the day.
 

Something to think about and experience not only during the practice, but during the day as you hang on the beach, take a walk, ride a bicycle.

 

The evening class will be a chance to check back in with the group, fell a connection with everyone, and enjoy a nice physical practice together.
We will also have an evening off. This is a chance for everyone to spend a longer day together, or a chance to venture out on your own away from the retreat area and return later in the evening.
::We Will Be Special Guests:: I looked at many, many places to hold a yoga retreat in Costa Rica. The reason I chose this one for this retreat is because it's clear we would be treated well and have a special experience.  A lot about holding a retreat depends on the retreat center that is hosting it, and the person who owns the retreat center. It's very much a partnership. Our host, Alessandra, clearly wants us to have a fantastic experience at her place. She's excited to have us come, and is committed to making it a special experience.
::Elegant::The owner is an Italian interior designer, and it shows.  Beautiful layout of the retreat area, bungalows, and pool.::Secluded:: It's off the beaten path, and we will have the whole place to ourselves.::Food:: Beautiful Italian and traditional Carribbean breakfast and dinner included.
::Yoga Practice Space::  We will have our practices in a new, covered yoga shala.
::Bungalows:: Beautiful bungalows for one or two people.  Three people is possible if two people share a king size bed. each bungalow has it's own outside veranda.
::Location:: Sonora is off the beaten track, away from towns. But, the closed town is just a 24 minute walk, or a short bike ride.  From there you can go to the beach, eat a restaurant, go out for some nightlife…but then be able to come back to our quiet sanctuary.
::Activities:: Surfing, jungle tours, bicycling, and lots more… 
::Schedule::
Saturday,Mar. 5th: Check-in, get comfortable. 7pm Reception & Snacks
Daily Schedule (Mar. 6th-Mar. 10th) *
7:15 – 7:25am Meditation
7:30 – 8:30am Yoga
4:30-6pm Yoga
Saturday, March 11th
7:15 – 7:25am Meditation
7:30 – 8:30am Yoga
4:30-6pm Yoga
7-9pm Final Night Shared Dinner and Party
Sunday, March 12th:
7:15 – 7:25am Meditation
7:30 – 8:30am Yoga
Checkout at 11am
*We will plan an extended group outing on Wednesday, so there will be no yoga Wednesday night.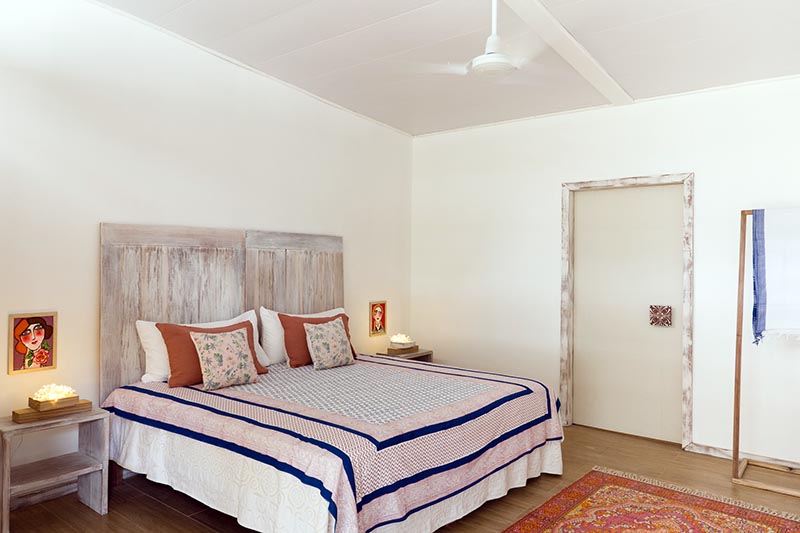 King Bed –
A spacious veranda will welcome you in the tropical bungalow, which has a king bed and single bed, a large bathroom with shower, finely equipped with soft and refined stonewashed linen towels, and a bathroom kit with natural products. We have given particular importance to the choice of sheets and textiles in all our rooms, using high-quality materials. The bungalow is also equipped with: safety box, coffee/tea/ herbal tea kit.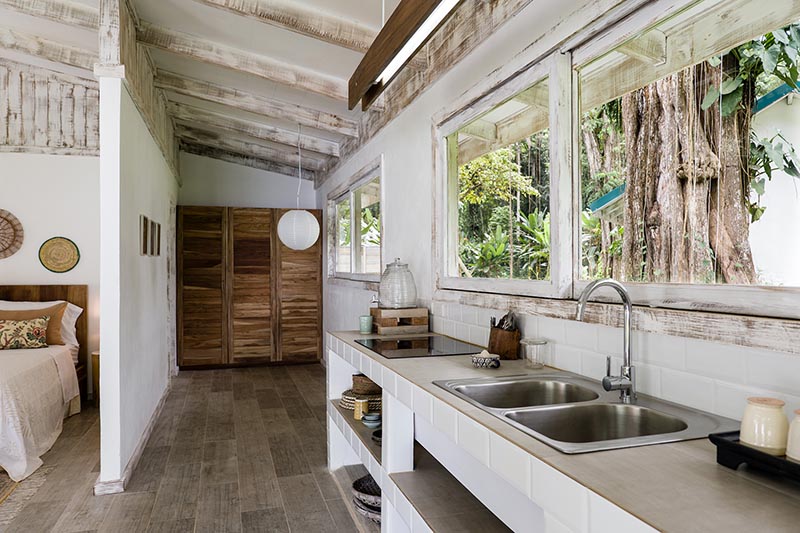 Queen Bed Bungalow Studio –
Welcomed by a comfortable veranda with a sitting area, you access an open space consisting of a large kitchen with all the comforts, dining room and sleeping area with queen bed and a single sofa bed, bathroom with shower, soft and precious stone washed linen towels and a kit /bath all with natural products. We have given particular importance to the choice of sheets and textiles in all the rooms of Sonora, the details are important to us … The room is also equipped with: Ceiling fan, Kitchen – hob, fridge and freezer, Internet, Daily cleaning and Parking.
::COSTS::
(lodging, yoga and food included)
$1500 for single
$1100 if you are sharing a room
You would be responsible for lunch…which makes sense, because people doing other stuff like beaching.All transportation, including from San José, is separate. I will facilitate transportation, so if possible, we can travel together.  🙂
::Not Included::
Transportation
Deposit & Refunds:
25% is required to hold your room. If COVID restrictions prevent our gathering for this retreat, your deposit will be refunded.
Send Deposits To:
Venmo — John-McConnell-50
MORE QUESTIONS: