FINCA EXOTICA YOGA RETREAT
::Dates:: Feb. 25-Mar. 5th, 2023 (8 nights)
or added 2 day "pre-retreat" Feb. 23-Mar. 5th, 2023 (10 nights)
::Location:: Finca Exotica, Osa Peninsula, Costa Rica
Enjoy being in one of the most beautiful places on Earth!  Finca Exotica is in the Osa Peninsula, one of the most biodiverse places in the world.  Delight being on retreat with fun, light-hearted practices focused on appreciating the beauty we are surrounded by, and the good company of all of those that are at the retreat. Our classes will focus on an appreciation of our selves, and a focus on seeing the good, first.
Our schedule will include meditation and yoga in the morning, and then a yoga session in the evening. Each class will start with a theme appropriate for the day; something to think about and experience not only during the practice, but during the day as you hang on the beach, take a walk in the jungle, or just relax.
 

The evening class will be a chance to check back in with the group, fell a connection with everyone, and enjoy a nice physical practice together.
We will also have an evening off. This is an opportunity for everyone to spend a longer day together, or a chance to venture out on your own away from the retreat area, if you'd like, and return later in the evening.
::Yoga:: We'll be doing yoga on a deck, overlooking the ocean, in the jungle.  Or, put another way…we'll be in the jungle, doing yoga, looking out to the ocean.
::Lodging:: Cabins, a Suite, and "Glamping Tents" are available.
::Food:: Mouth-watering, healthy meals three times per day.
::Activities:: Horseback riding, bird watching, kayaking, wildlife refuge hiking, surfing, jungle night tour…..
::Schedule::
Early Arrival…
Thursday (Feb. 23rd) Evening Check-in
Friday & Saturday (Feb. 24th & 25th) Relaxed days with morning yoga
Official Arrival…
Saturday (Feb.25th): Official Check-in, get comfortable. 7pm Reception & Snacks
Daily Schedule (Feb. 26th-Mar 3rd) *
7:15 – 7:25am Meditation
7:30 – 8:30am Yoga
4:30-6pm Yoga
Saturday, Mar. 4th:
7:15 – 7:25am Meditation
7:30 – 8:30am Yoga
4:30-6pm Yoga
7-9pm Final Night Shared Dinner and Party
Sunday, Mar. 5th:
7:15 – 7:25am Meditation
7:30 – 8:30am Yoga
Checkout at 11am
*We will plan an extended group outing on Wednesday, so there will be no yoga Wednesday night.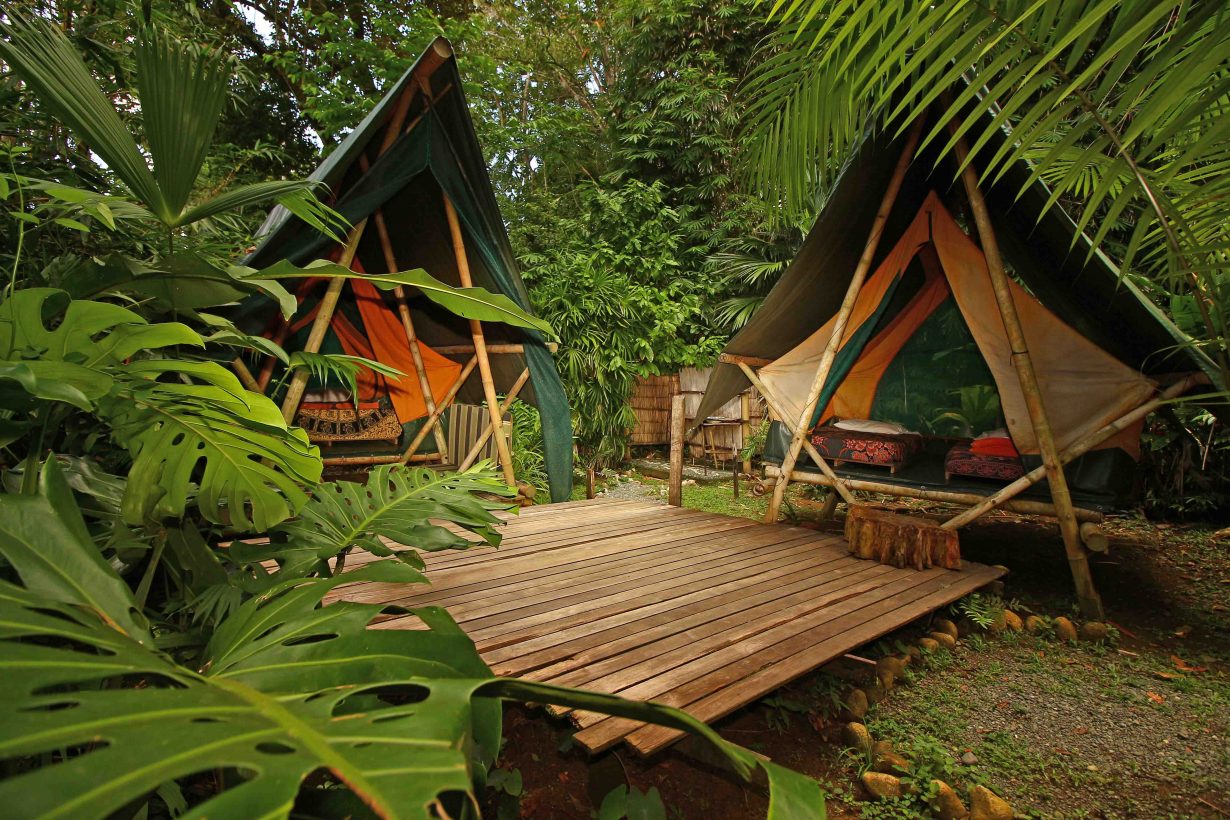 TIKI TENTS – – These are large, locally handcrafted jungle tents for 2 people, containing either a double size or 2 twin beds, perfect for couples, singles or friends.
Near the beach (3min walk)

Space: 2 People

A king size bed or 2 single beds

Shared Bathroom

Outdoor shared shower

No hot water

No fans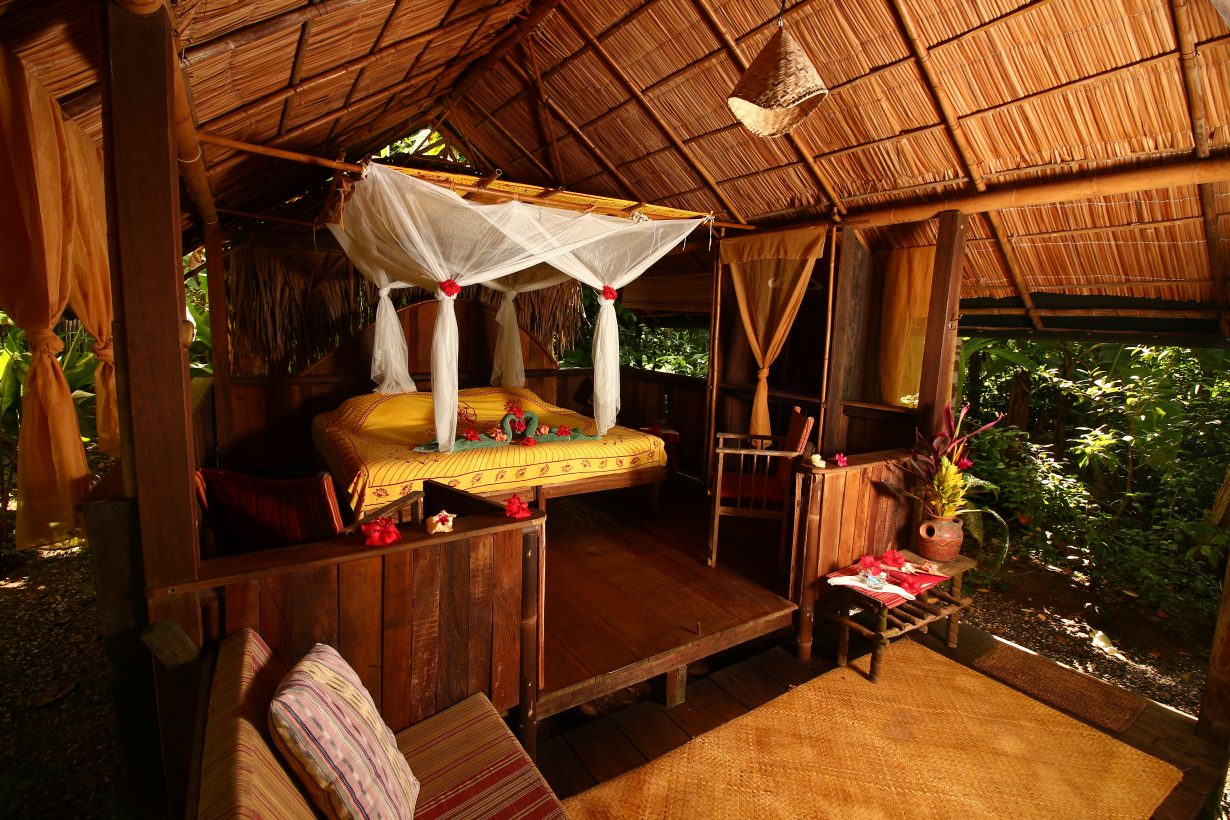 CABINS – Five different cabins, along with a luxury suite.  They come in various sizes, with some just for a couple, and others to accommodate more people.
Breathtaking views

Private bathrooms

Outdoor shower

No hot water

No fans

Living with out walls
::COSTS::
(lodging, yoga and food included)
Double Tiki Tent – $920/per person ($1100 for 10-day)
Single Tiki Tent – $1000 ($1200 for 10-day)
::Gardenview Cabins::
Triple/Quad Cabin – $1200/per person ($1450 for 10-day)
Double Cabin – $1320/per person ($1600 for 10-day)
Single Cabin – $1480 ($1800 for 10-day)
::Oceanview Cabins::
Triple/Quad Cabin – $1400/per person ($1700 for 10-day)
Double Cabin – $1520/per person ($1850 for 10-day)
::Not Included::
Transportation
Deposit & Refunds:
25% is required to hold your room.
Send Deposits To:
Venmo — John-McConnell-50
::Learn More:: Go here to see more great images and learn more about our retreat center: https://fincaexotica.com
Have Questions?: