Costa Rica Jungle Retreat
Finca Exotica Eco-Lodge
Feb. 24–Mar. 2, 2024
Hello!
I hope you will join us on another visit to the beautiful Finca Exotica Eco-Resort in the Osa Peninsula of Costa Rica. We will be staying in one of the most biodiverse places in the world, hosting 2% of the world's biodiversity. Besides the incredible variety of animals and plants, we will delight being on retreat with fun, light-hearted practices focused on appreciating the beauty we are surrounded by and the good company of all of those that are at the retreat. Our classes will focus on an appreciation of our selves, and a focus on seeing the good, first.
You can stay by yourself or a shared glamping tent or cabin. The tents are set in the trees closer to the ocean, with the cabins being set up on the hillside looking down at the ocean, or in the forest.
Our schedule will include meditation and yoga in the morning, and then a yoga session in the evening. Each class will start with a theme appropriate for the day; something to think about and experience not only during the practice, but during the day as you hang on the beach, take a walk in the jungle, or just relax. The evening class will be a chance to check back in with the group, feel a connection with everyone, and enjoy a nice physical practice together.
We will have one full day as a group activity being guided through the adjacent National Park. This is an opportunity to gain local knowledge about the amazing jungle, its plants, animals, and history.
I hope you will join us in this truly magical and very special place.
See you soon,
John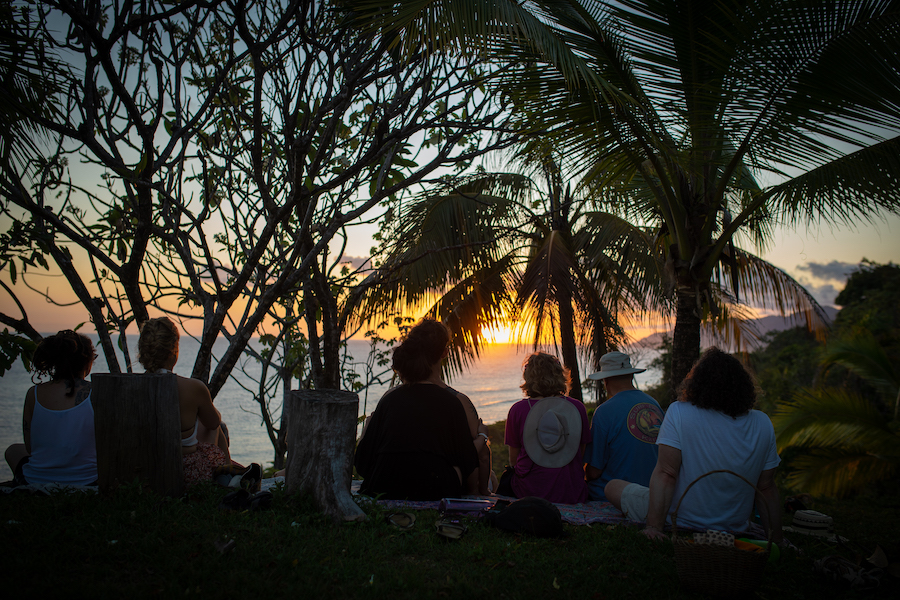 Listening to the ocean, monkeys, and birds while watching the sunset.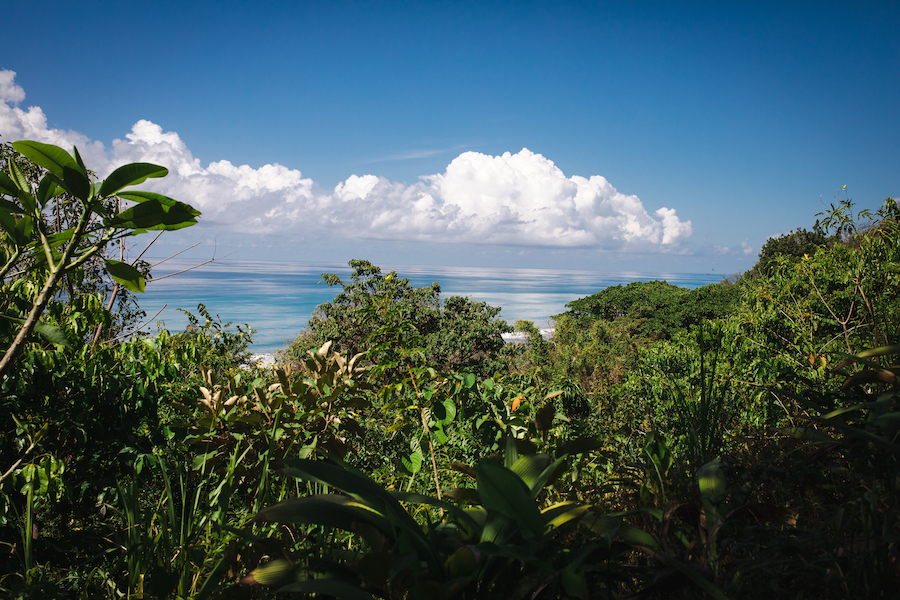 Looking out from Finca over the jungle to the ocean. 
A Typical Day at the Jungle Retreat
You wake up with the sunrise (the sun comes up at around 6am, and sets around 6pm, year round). You take a short walk down to the ocean for a morning walk on the beach, or a morning swim. You then walk up the hill for a meditation followed by a morning practice with a theme that you can contemplate during the day. During yoga you see monkeys swinging on trees nearby, and hear the sounds of birds you've never heard before.
After practice you sit with the rest of your friends on the retreat at a community table and share a delicious breakfast (each morning is a different meal), with conversation and talk about the day. After breakfast you are off to take a surf lesson, or a hike along one of the trails with a couple friends, or maybe you relax in one of the many hammocks.
At lunch time, you return to the dining hall and reconnect with everyone, and you even enjoy a nice conversation with a few other people from around the world visiting Finca.  After lunch you take a nap, read a bit of your book, and enjoy a wonderful swim in the ocean.
The second yoga class starts, building on the first, and ending right as the sun is setting. After class you walk to the dining hall with everyone. You are first served  a special appetizer while enjoying the stars coming out, ordering a margarita from the bar. Dinner is served (a different dinner each day), which is delicious, followed by special desert. After nice conversations at the community table after dinner, you head back to your cabin, enjoy an evening shower, relax, and get to bed to get up early to easily rise to sunrise the next day.
Another day in paradise. 
7:15 – 7:25am Meditation
7:30 – 8:30am Yoga
8:30-9:30am Breakfast
9:30-noon Free Time
12-1pm Lunch
1pm-4:30pm Free Time
4:30-6pm Yoga
6-7pm Hors d'oeuvres
7-8:30pm Dinner
Friday
7-9pm Special Final Dinner and Party
Saturday
7:15 – 7:25am Meditation
7:30 – 8:30am Yoga
8:30-9:30am Breakfast
11am Checkout
* Wednesday we will have an all day group outing, with no evening yoga.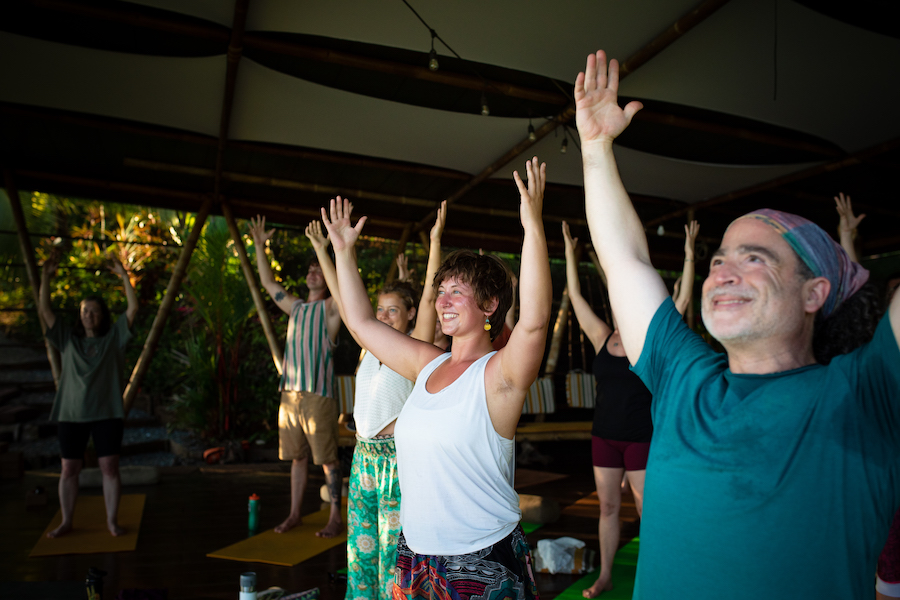 Enjoying a fun good practice, with good company.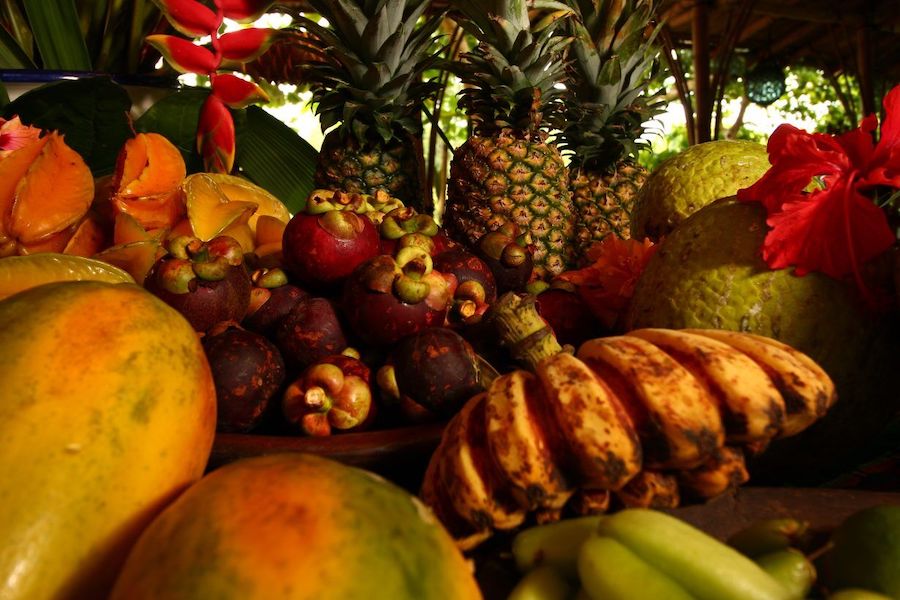 A sampling of the local fruit served daily.
Each morning breakfast is at 8:30am. You can help yourself to a buffet of assorted, in-season fruits, granola and yogurt as well as coffee, tea and juice to get your day started right! Followed up with a full, hot breakfast.
Lunch is served from 12-1pm. One day may be a curry, the next may be sushi, falafel, or something you have never even heard of. Finca chefs dedicate much time and planning to creating new tastes, textures and experiences each day!
Dinners, however, are definitely the meal you will remember most. Enjoy Hors d'oeuvres (homemade chips, fried plantains, ceviche, etc.) from 6-7, grab a drink at the bar and relax while watching the sunset. At 7 you will join everyone at the retreat around the community table and share a meal. This 3 course meal featuring an appetizer, an entrée and a dessert is a great chance to connect with everyone and feel that much more immersed in your environment.
Pineapple flambé, chocolate banana ice cream, or chia, coconut and raw sugarcane balls are just a few examples of the desserts we create to end your night on a high note.
With Fincas open kitchen, you will always be able to talk to the chefs and even watch them making the magic happen! They are also more than happy to share recipes for you to take home to recreate for friends and family.
Beachfront, surrounded by primary forest and bordering Corcovado National Park, all our jungle cabins were built under the concept of "open space" this in order to take full advantage of sunlight and breeze.
Here you will start your awakening with the beautiful sound of the birds and the softness of the light entering your room, then take a shower of pure spring water and prepare for a nutritious breakfast. The comfort and beautiful decoration of our cabins make our guests feel relaxed and amazed with the beautiful colors and sounds of nature.
There is a choice of six uniquely handcrafted open air cabins in the heart of the jungle, great for couples, families or groups of up to 5 people,  all of them furnished with queen and / or single beds, flowers, candle light, mosquito nets, a private toilet and an outdoor shower. Choose between our accessible garden cabins or those uphill with magnificent ocean views.
Glamping in Costa Rica? If you are interested, it means that you are dreaming of living in the jungle and communing with nature, no doubt you will love the Finca Glamping Tiki Tents.
These are large, locally handcrafted jungle tents for 2 people, containing either a double size or 2 twin beds, perfect for couples, singles or friends.
Tents are placed on wooden platforms and are completely sealed. Ample screening provides cool, fresh air all night long so you will never get too hot. The largest tents also include a front deck with lounging areas, where you can rest, read, or take a nap in the shadow of palm trees.
The Tiki Tents are spaciously spread across the garden, providing the opportunity to immerse yourself in nature.
Bathroom and outdoor shower are communal and shared with other tents.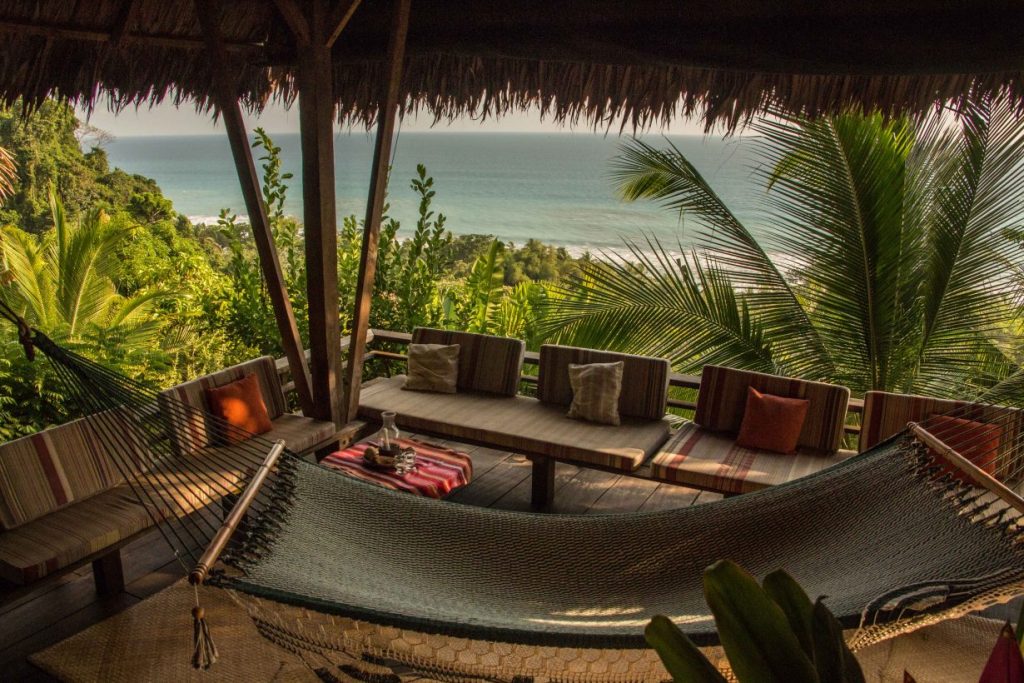 View from one of the oceanview cabins.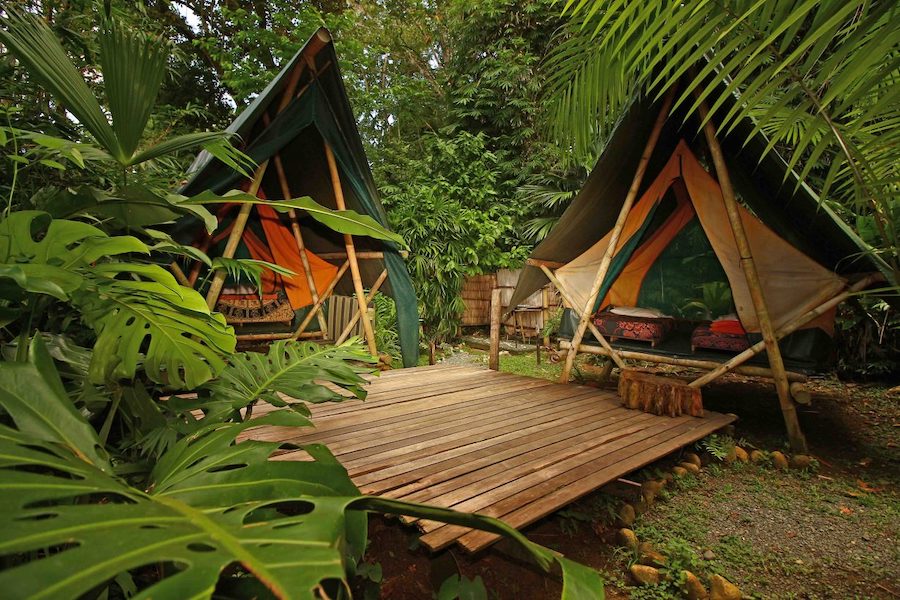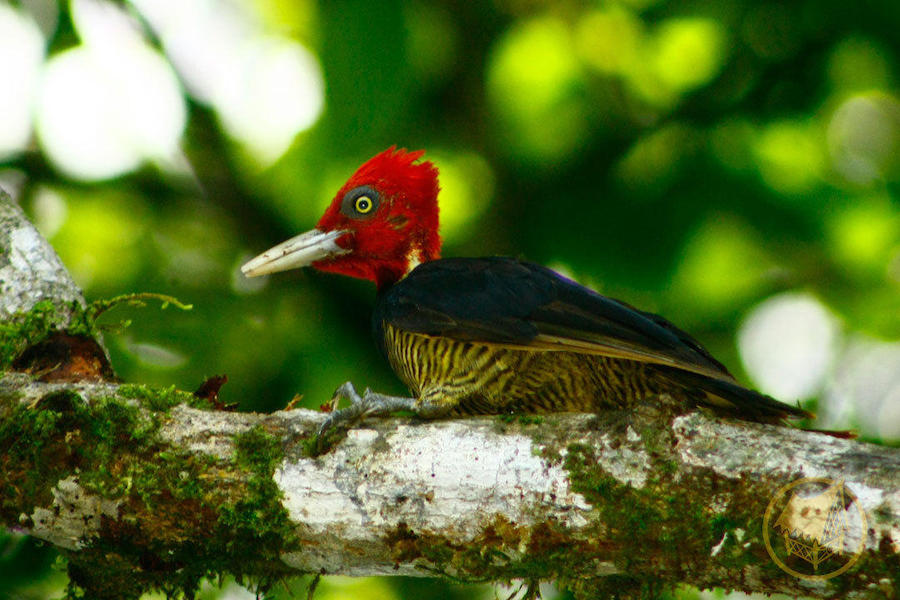 Finca is run by a family, and you are invited guests. There is a real sense of being special guests in their home, and at this beautiful place they build themselves. The people who own Finca and work there are the reason that I keep coming back.
Getting There is Half the Adventure
 To get to Finca you will  fly into Juan Santamaria International Airport in San Jose. If you are arrive by noon or earlier, you can then catch a short flight to Puerto Jimenez. Otherwise, you can stay overnight in San Jose (we have recommendations) and catch a flight the next day. Then we will arrange for jeep to pick you up and take you to Finca. You can also rent a car, and we can help you with that.
Finca is situated in a jungle, with an effort to have the least impact as possible on the environment. It is an incredible opportunity to immerse yourself in the Costa Rica jungle, and, this isn't for everyone. It is hot and humid, there are wild, unfamiliar animals, there are no fans. It's an incredible experience, and at the same time, this isn't a "pampered" retreat, and you have to be open to interacting with an unfamiliar environment. 
Costs (Black Friday + Cyber Monday Sale)
(lodging, yoga and food included)
Glamping Tiki Tent
Locally handcrafted jungle tents for 1 or 2 people.
Near the beach (3min walk)
A king size bed or 2 single beds
Shared bathroom
Outdoor shared shower
No hot water
No fans
Double Tiki Tent – $1630/per person
Single Tiki Tent – $1665
Cabins
Uniquely handcrafted open air cabins in the heart of the jungle.
Queen and/or single beds
Private bathrooms
Outdoor shower
No hot water
No fans
Gardenview Cabins are situated closer to the ocean in the jungle.
Triple/Quad Cabin – $1875/per person
Double Cabin – $1910/per person
Single Cabin – $2050
Oceanview Cabins are along the hillside with views of the ocean.
(Only one cabin left)
Triple/Quad Cabin – $1980/per person
Double Cabin – $2120/per person
Not Included – Transportation
Deposit & Refunds:
25% is required to hold your room.
Send Deposits To:
Venmo — John-McConnell-50
PayPal — PayPal.me/JohnYoga
Learn More:
https://fincaexotica.com
Questions?
john@johnmcconnellyoga.com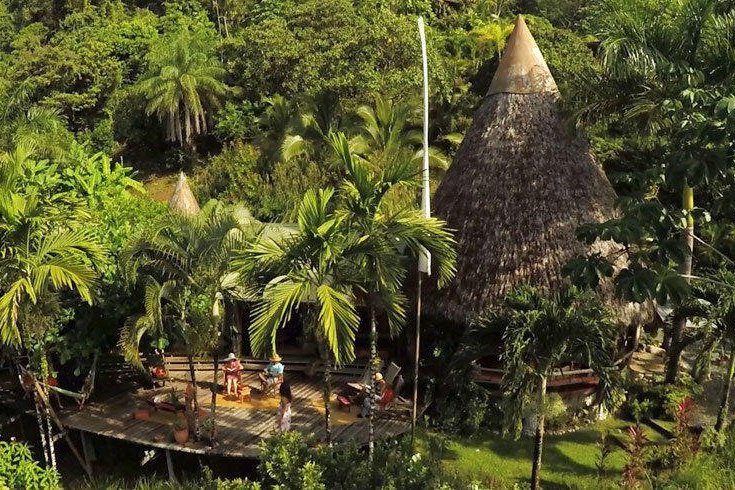 Casa Grande restaurant and observation deck looking out over the jungle and the ocean.