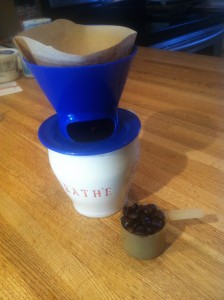 I make my wife coffee every morning. I don't drink much coffee myself, so making coffee for her is my small contribution to our happy relationship…so far it's working! The other day I was making her my perfect cup of coffee (instructions below). I have an old school method of making coffee with just hot water poured through a paper filter. If you've ever used this method, you know you need to keep pouring water into the filter, and there's a danger of overfilling the mug. For me, since I can have a hard time keeping my attention on something like that, the coffee can often overflow out on the counter, which is a bummer.
Well, in making coffee the other day I thought, "If I fill the cup completely full of coffee there isn't any room for coffee creamer!" Yes…I had the explanation point in my mind. Why I thought this was such a great "discovery" was because I wasn't really thinking about it in terms of coffee, I was thinking about in terms of life. Sometimes it's easy to think that the goal of life is to fill your cup completely to the top. There is a lot of reinforcement of that idea everywhere we look, and people that are extremely busy are the one's that seem to be held up on a pedestal as a "success".
The thing I see in myself when I am too busy, or other people I talk to who have too much to do, is stress. Instead of feeling happy to have our cups full, it can be difficult to relax, breath, enjoy life.
The more I practice yoga and learn about yoga philosophy, the more I understand that life truly is about being happy. We are hear to savor what is around us and inside of us. Life is amazing and we are supposed to enjoy it. That's the goal. We are alive to be happy, and our happiness spreads happiness. And, that happiness is always inside of us, we just need to let there be room in our cup for our light (coffee creamer!) to come to the surface. But, if we fill our cup completely full there's no room for the cream. There's no space or time for the joy that is living, because we are too busy living it.
So, let yourself be ok about filling your cup shy of the rim. With that extra space that's left, allow your own inner joy, happiness, creamer to come to the surface, and take a long, slow, delicious sip of life.
Making A Great Cup of Coffee
1. Put paper cone filter in a cone holder (I use Melitta #2 Natural Brown filter and Melitta cone holder)
2. Put the cone holder/filter on top of your cup (I use a 20 oz, ceramic cup)
3. Grind 20cc of beans
• I have a 20cc plastic scoop that was originally a protein powder scoop…works great!
• If you under grind, the coffee ends up to be under extracted and weak, if you over grind, the coffee can be bitter. Figure out what works for you.
4. Boil Water
5. Immediately after boiling, pour water into the empty filter, getting the whole filter wet. This also gets hot water in the cup. Hold the filter as you swirl the hot water in the cup (warming the cup), and then dump out the water.
6. Put the ground beans into the wet filter.
7. Now for the bloom – the most important part! Pour just enough hot water onto the beans so they are all wet. Using a circular motion starting from the outside of the coffee to the middle works well.
8. Let sit for 30 seconds.
9. Continuously pour water over the coffee beans, checking regularly so you don't overfill.
10. Leave room for cream.

FABULOUS FRIDAYS!

UPCOMING DATES
November 21st
December 19th
ArtsRiot
$15

Mark your calendars...Hope to see you there!!

Sign Up For Newsletter

SIgn-up for monthly e-mail newsletter with John's classes, new videos, thoughts and favorite musical suggestions.

Yoga Music Playlist

Singer / Songwriter playlist, for the most part. Some great stuff! If you are interested in past yoga playlists you can go here and check them out.

Class Schedule

Tues 5:45-7:15pm // Level 2
Wed 4:30-5:30pm // Community
Fri 7-8am // Level 1/2
Sun 8:30-10:00am // Level 2
Sun 10:30-noon // Level 2

Tues 7:30-8:30am

Wed 12:15-1pm
Thurs 5-6:15pm (while school is in)

Video Archives

John has created more than 70 free yoga videos for your practicing pleasure. These videos are beginner to intermediate classes involving all different types of asana practice. Visit the video page to see what's available.

Give Feedback

Please take a couple minutes to take the survey...it's only 10 questions! Thanks...John